Despite their dominance of the African women's football landscape, Nigeria have always had it tough when it comes to facing Banyana Banyana, especially in recent times. In the last Women's AFCON, Banyana also won their opening game v Nigeria (1-0), and only lost out to the same side in the final by a painful penalty shootout. Yesterday's match could have easily been a clash between the last two WAFCON winners. Watching the game, it did feel like a meeting between two of Africa's best – but how did Banyana end up (almost) cruising to a 2-1 win.
Main Stats
In many statistical measures, this was a close game. A glance at the overall shot count would favour Nigeria, but going a bit deeper, you start to see that there was little difference. It took over half-an hour minutes to see the first shot in the game (36 mins), with Nigeria's second shot, only coming in the 46th minute, further showing how tight the opening 45 minutes was.
3 -shots taken by both sides in the first half (compared to 10 in the second)
1 – Banyana's shots taken in the first half (compared to Nigeria's two)
0 – Nigeria's shots taken in the first half inside the box (compared to Banyana's one)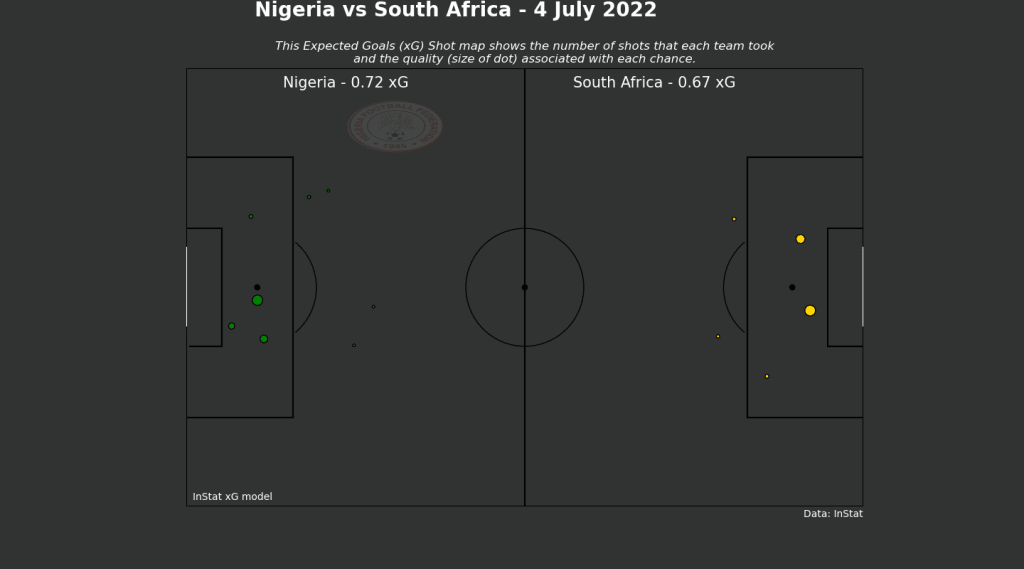 Things would open up in the 2nd half, with the keepers' awareness tested very early. The two teams traded a pair of shots each before Banyana opened the scoring. One became two in a matter of minutes, and it looked as if they were cruising. When Banyana found the gaps, they smelt blood and exploited the weaknesses efficiently.
5 – Banyana's total shots taken (compared to Nigeria's eight)
4 – shots for Banyana in the 10-minute period between 52 and 62 mins (compared to 1 shot in the other 80 minutes)
0 – shots for Banyana after their second goal (four for Nigeria)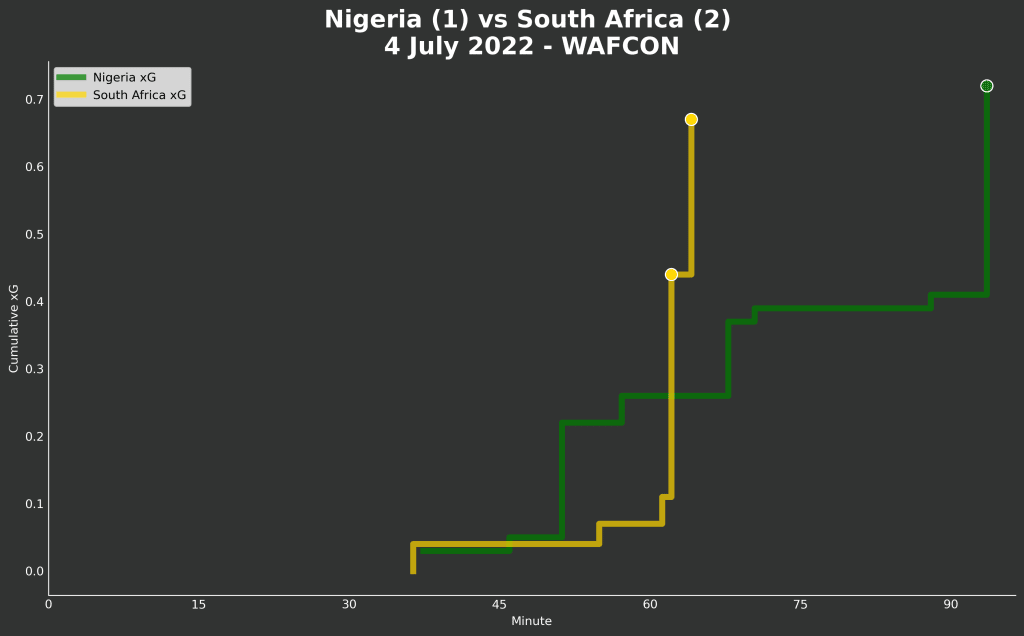 Of course, the game state is an important aspect to consider when looking at the shot count, as Nigeria would have started shooting more often in chase of a goal. Conversely, Banyana would have taken fewer risks in the last half hour. But the game was won (and lost) in that 20-minute period just after the break:
8 – shots from both teams in the 3rd quarter of the game (45-68 mins), compared with seven shots in the other three quarters.
4 – Nigeria's shots after Banyana's 2nd goal (compared to Banyana's zero)
8 – Nigeria's goal came with their 8th and final shot (compared to Banyana – 4th).
35% – Nigeria's shot accuracy (compared to Bnayana's 40%)
We also saw a marginal difference in the shot quality (0.72 xG for Nigeria compared to 0.69 for South Africa). Indeed, both defences weren't giving much away in terms of free shots in good positions.
1.39 – combined xG from this match, the lowest combined xG at the tournament so far.
Passing
What was pleasing to see was a Banyana side sticking to their strengths, a short passing game littered with deft touches and skills. They attempted more dribbles than Nigeria throughout (25-17), and were also more successful (17-12). Just take a look at the beautiful second goal.
171 – Accurate passes for Banyana in 1st half (compared to Nigeria's 109)
133 – Accurate passes for Banyana in 1st half (compared to Nigeria's 134)
5.2 – The average pass length upfield in metres for Banyana in the 1st half (compared to 3.3m in the second).
Other numbers that stood out were Banyana's hunger for the ball, while they have work to do when we look at lost balls.
2.27 – passes Banyana allowed Nigeria before committing to a defensive action (compared to the 4.4 they were allowed by Nigeria)
17 – Lost balls in Banyana's own half (compared to just 8 for Nigeria).
It's hard to say what is next for Banyana – whether it is up or down from here. This was the ideal performance for the final, and one hopes the team haven't peaked too early. In Burundi (169) and Botswana (152), they face their easiest games in a long time. The 130 and 113 ranking difference is the biggest gap between Banyana and an opponent at the WAFCON finals ever. So Ellis & co. may be tempted to ring the changes. What should not be tinkered with is the momentum.
SIGN UP TO OUR BET CENTRAL PLAYBOOK
Get weekly emails packed with the best tips and sports content.
Get ahead of the game now – fill in the contact form below.