International games can be scrappy affairs, and that makes them rather hard to predict. Teams rarely play together, so there is less of the circadian rhythm you'd expect in the club game. For playing teams, the equation becomes simple – you have to take the few chances that you manage to create. In the first game, Banyana Banyana did that to perfection, they scored with their second and third shots against Nigeria, and were out of sight by the time the Super Falcons got their act together.
Against Burundi, they wasted chances but still ran out comfortable winners, yet the signs of profligacy were already there, characterised by the missed penalty. The failure to take chances seems to be a recurring theme, and this can be a real danger the deeper one goes into a tournament. The further you go, the harder it will be to open up defences, which highlights the added importance of being clinical.
Main Stats
10 – shots for Banyana in the game against Tunisia (their 2nd lowest so far)
2 – shots on target for Banyana (their joint lowest at WAFCON)
1.26 – xG created by Banyana v Tunisia (their 2nd lowest at the tournament, after 0.67 v Nigeria)
The last-minute penalty scare from Tunisia was a warning on the dangers of wastefulness, as Banyana were a VAR call away from potentially going into extra time. Tournament progress is a double-edged sword. Not only do you get fewer chances to score as teams tighten up, but your defence also faces more of a threat.
7 – shots attempted by Tunisia (only Nigeria have taken more against Banyana, 8)
71% – shot accuracy by Tunisia (the highest by a side facing Banyana)
0.81 – xG against Banyana (their worst defensive performance)
The big question coming into this game was how Banyana was going to cope without star striker Thembi Kgatlana. We highlighted that her absence alone would not be an issue, as long as the assembly line continued to create quality chances. While the system was not as flawless as before, there were still some decent openings.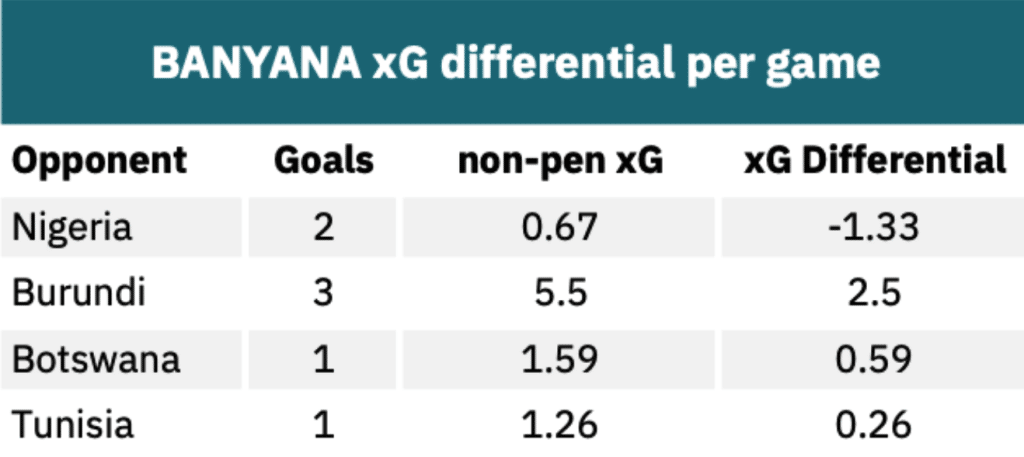 What the xG figure doesn't show us, is openings where a shot wasn't taken – for example, when Jermaine Seoposenwe went round the keeper but couldn't get a shot off. So, there could be an underestimation of the value of chances created. Having said that, the issue remains – chances were wasted.
This is the first time Banyana have won up to three games by a 1-goal margin at WAFCON. Only once before (2008 Equatorial Guinea, 4) has a team won as many matches at the tournament by such a narrow margin. But chances are only going to get more scarce going forward, and the margins of error will grow slimmer. Against Zambia, you'd expect Banyana to create at least 1xG worth of chances. It's the clinical Banyana (MD1) you'd want at the end of those, rather than the wasteful Banyana (MD2-4).
SIGN UP TO OUR BET CENTRAL PLAYBOOK
Get weekly emails packed with the best tips and sports content.
Get ahead of the game now – fill in the contact form below.